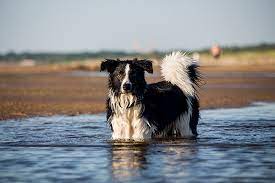 Border Collies are known for their intelligence, agility, and herding abilities. These energetic dogs are always up for an adventure and enjoy exploring different environments. When it comes to water, many Border Collies exhibit a natural affinity and enthusiasm for it. This article tells about the reasons why Border Collies love water and how it contributes to their physical and mental well-being.
What is a Border Collie?
Before we explore why Border Collies are drawn to water, let's understand the breed itself. Border Collies are a highly intelligent and energetic herding breed originally developed in the border region between England and Scotland. They are known for their intense focus, exceptional problem-solving skills, and unparalleled work ethic.
Border Collies and Water
Border Collies have a unique relationship with water that sets them apart from other dog breeds. While not all individual Border Collies share the same level of enthusiasm, many of them exhibit a strong attraction to water and thoroughly enjoy engaging in water-related activities.
The Instinctual Connection
One of the reasons Border Collies are drawn to water is their instinctual connection to their herding heritage. Historically, Border Collies have been used to gather and control livestock near bodies of water. Their ancestors often had to navigate rivers and streams while working, and this trait has been passed down through generations.
Playful Nature of Border Collies
Border Collies have a playful and adventurous personality. Water provides an exciting and stimulating environment for them to explore. Whether it's splashing in puddles, running through sprinklers, or diving into a lake, Border Collies find joy in the sensation and freedom water offers.
Border Collies Cooling Off in Hot Weather
Another reason Border Collies are fond of water is its ability to help them cool off in hot weather. These dogs have a thick double coat that can make them susceptible to overheating. Water activities offer a refreshing respite, allowing them to regulate their body temperature and prevent heat-related issues.
Border Collies Retrieving and Swimming
Border Collies are highly trainable and excel in activities such as retrieving objects. Many Border Collies have a natural inclination for swimming, which makes them excellent candidates for water sports like dock diving or water rescue. Their strong swimming abilities further contribute to their affinity for water.
Water as a Source of Entertainment for Border collies
For Border Collies, water serves as a limitless source of entertainment. Whether it's chasing after floating toys or simply splashing around, these activities engage their natural instincts and provide mental and physical stimulation. Water play can also serve as an outlet for their abundant energy.
Training and collies Bonding
Engaging in water activities with their owners offers Border Collies a chance to strengthen the bond and trust between them. Training sessions that involve water can be both fun and rewarding, promoting a sense of teamwork and deepening the human-canine relationship.
Encouraging Water Activities
If you have a Border Collie and want to encourage their love for water, there are several steps you can take. Gradual exposure to water from an early age, positive reinforcement, and introducing of water-related toys can help foster their interest and comfort in aquatic environments.
Precautions to Consider while Border collies swimming
While Border Collies may have a natural affinity for water, it's essential to take precautions to ensure their safety. Always supervise them during water activities, provide appropriate flotation devices when necessary, and be aware of potential hazards such as strong currents or deep water.
Border Collies Overcoming Fear of Water
While many Border Collies are naturally drawn to water, some may exhibit fear or hesitancy. Patient and gradual exposure, positive reinforcement, and building trust can help overcome this fear. Consultation with a professional dog trainer or behaviorist may be beneficial in such cases.
Socialization and Exposure in Border Collie dogs
Early socialization plays a crucial role in a Border Collie's comfort with water. Introducing them to various water environments, including pools, lakes, and rivers, during their formative years can help shape positive associations and build confidence.
See also: DO BORDER COLLIES LIKE WATER AND SWIMMING
Safety Measures
Water safety is of utmost importance when engaging in water activities with your Border Collie. Always ensure access to fresh drinking water, provide shade during hot weather, and be mindful of potential waterborne hazards such as parasites or toxic substances.
Benefits of Water Activities to Border collies
Engaging in water activities offers several benefits for Border Collies. It provides physical exercise, mental stimulation, and an outlet for their energy. Water activities can contribute to overall fitness, promote joint health, and help prevent obesity. Additionally, the bonding experience between owners and dogs strengthens the emotional connection and trust.
Conclusion
In conclusion, Border Collies' love for water can be attributed to their instinctual connection, playful nature, and the various benefits it offers. Understanding and catering to their affinity for water can enhance their well-being and provide opportunities for enjoyable and rewarding experiences. So, embrace the water-loving side of your Border Collie and make the most of their enthusiasm for aquatic adventures.
FAQs about Border Collies and Water
Can all Border Collies swim?
Not all Border Collies are natural swimmers, but many have an instinctual ability to swim. Each dog is unique, and while some may take to water easily, others may need gradual exposure and training to become confident swimmers.
See also: Can Border Collie Swim?
Are Border Collies prone to water-related injuries?
Border Collies, like any other breed, can be prone to water-related injuries if proper precautions are not taken. Always ensure their safety, supervise them during water activities, and be aware of potential risks such as currents or deep water.
How can I introduce my Border Collie to water?
To introduce your Border Collie to water, start with shallow areas and calm environments. Use positive reinforcement, encouraging words, and treats to build a positive association. Gradually increase exposure, allowing them to become comfortable at their own pace.
Can I take my Border Collie swimming in the ocean?
Swimming in the ocean can be enjoyable for Border Collies, but it's essential to consider safety measures. Pay attention to currents, waves, and potential dangers in the ocean environment. Start with calm areas and gradually progress to more challenging conditions.
How often should I engage my Border Collie in water activities?
The frequency of water activities depends on various factors, including your Border Collie's age, health, and individual preferences. Regular exercise, including water activities, is beneficial, but always consider your dog's physical capabilities and consult with a veterinarian if necessary.